Augmented Reality Apps were yesterday – The new "big thing" is WebAR.
Augmented reality without an app. An internet link or a QR code is enough. And of course an up-to-date mobile phone.
Notice:
Open the website with an AR-enabled smartphone or tablet to experience
the AR applications. To do so, please scan the QR-Code.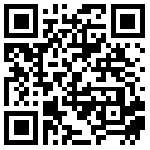 interactions, animations and sound
What if your product would not only be live in front of you, but additionally functions could be experienced at the push of a button and realistic sounds could be heard. That would be … WOW and much more than just a picture, which already tells more than 100 words. Try it out …